For several years we have noticed that private investors often wonder that institutional traders would benefit from preferential terms for placing orders on the exchange, while individual traders would not have access to them.
In fact, European financial regulation (MiFID II), which aims to protect investors and ensure the proper functioning of the financial markets, imposes particularly favorable conditions for individual investors at various levels.
In this article, we explain what the Euronext Best of Book service is – literally "the best of the book" – that allows retail investors to benefit from the best conditions when placing buy/sell orders on the exchange.
Explanation of the principle of "Best Execution" on the Stock Exchange
Let's start with a reminder of the law
Since the adoption of the MiFID II Directive by the European Commission in 2014, which aims to ensure greater transparency in the financial markets through harmonized regulation at European level, financial intermediaries (i.e. brokers) are required to execute buy and sell orders from for securities originated by retail investors in accordance with the Best Execution Policy.
The best execution policy states that a stockbroker must make every effort to ensure that orders are executed at the most favorable price for its retail clients.
The broker must consider two factors in order to recognize best execution as valid:
the execution price of the order (buy/sell);
the transaction fees that the broker will pay to execute the execution.
Remark : So think twice before asking your stockbroker for professional investor status (for example, to get higher leverage), because you lose this right to guaranteed best execution.
Also read our article Free Trade: The Hidden Face of Stock Exchange Fees
How does it work in practice?
If your stockbroker is regulated in Europe, it should guarantee you "best execution". In recent years, however, new players have emerged who want to compete with the major stock exchanges. These are MTFs ("multilateral trading facility") and "dark pools", which do not necessarily apply the execution rules usually found on historical exchanges.
Please understand that MTFs and/or "dark pools" do not always execute orders at the best prices and rarely differentiate between retail orders and professional orders.
The best way to ensure "best execution" is to turn to a stockbroker who is committed to executing all of its clients' orders on one of the major exchanges, which are governed by financial regulations.
See also our 10 tips for choosing the best stockbroker
Euronext and its Best of Book service
When your stockbroker places your order to buy or sell shares on Euronext Paris through the Best of Book service, it will be executed at the best available price among all potential counterparties present on the exchange, including certain counterparties reserved for natural persons. Your order will be identified as an order initiated by a retail investor and will benefit from advantageous prices reserved for retail in the Euronext book, guaranteeing you:
access to the best prices available in Europe thanks to liquidity providers dedicated to improving your execution price;
an actual execution price of your order negotiated in full competition within the Euronext Central Order Book (competition says multiplicity of counterparties in the order book, ensuring a competitive and impartial market);
higher quality of execution allowing you to obtain a price improvement. Best of Book is the trading platform that outperforms the EBBO (European Best Bid & Offer) the most, which is the benchmark that reflects the best possible price available from all European trading platforms.
With these conditions, your orders can therefore have a better final price for the purchase or sale of securities. In addition, as a private investor you also get access to a number of additional available shares.
According to data from QuantHouse, in 2021, thanks to "Best of Book", orders from retail investors benefited on average from a price improvement of €3.07 by placing their orders on Euronext instead of an alternative platform. . In addition, Best of Book enabled individual investors to obtain a better buy or sell price for 98.68% of orders processed. In total, more than 106 million euros in savings were realized by individual investors.
Also discover our article Scholarship Costs: Don't Be Fooled
Example of execution of stock market orders for the investor
In this illustrated example, we compare the execution of an order for 100 shares that would have been initiated by a retail investor with the execution of an order for 100 shares that would have been initiated simultaneously by a professional investor.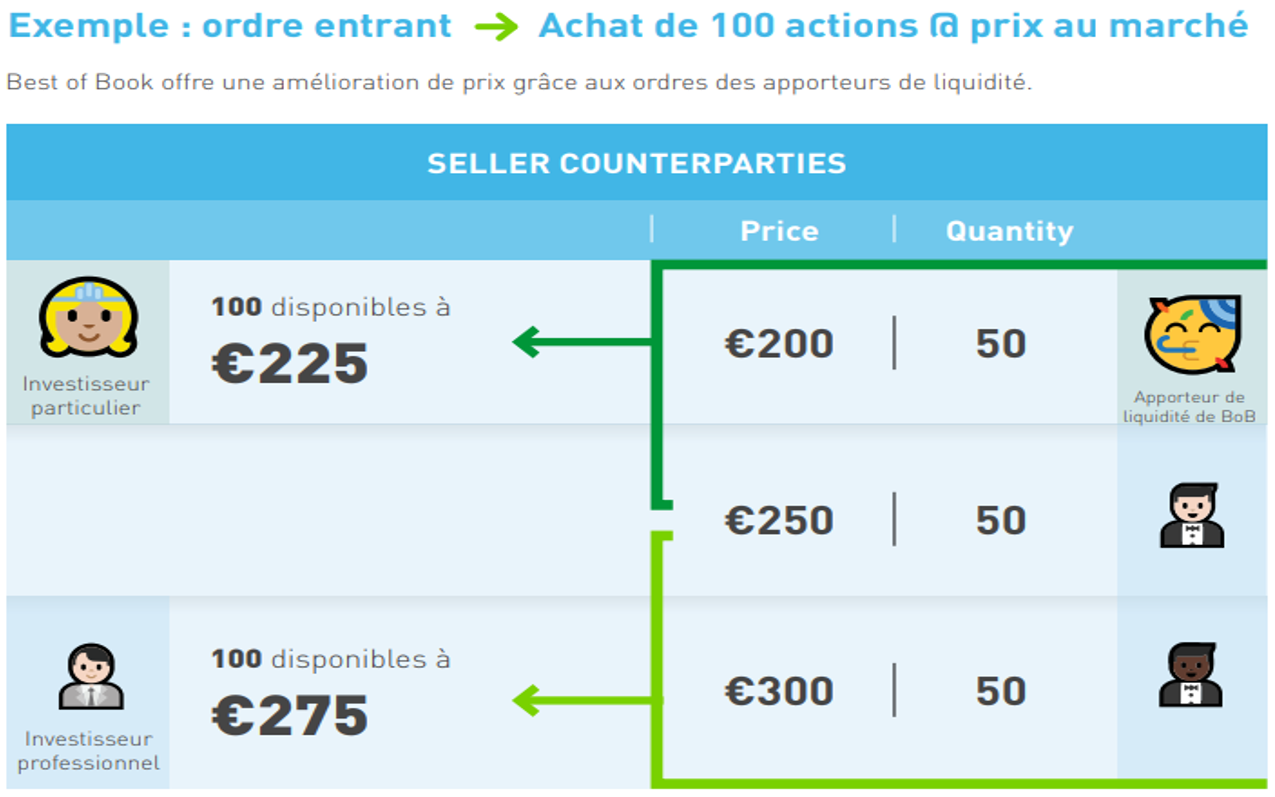 Source: Euronext
In the main order book (open to everyone) we see that there are 50 shares for sale at a price of EUR 250 and another 50 shares at a price of EUR 300.
The liquidity bag specially reserved for retail investors shows that 50 additional shares are available at prices of EUR 200.
Also read our dossier How to invest on the stock market? Our roadmap
The case of the professional investor
Professional investors who want to buy 100 shares can buy 50 at a price of EUR 250 (top of book) and 50 at a price of EUR 300 (liquidity level 2). He will therefore have bought 100 shares at an average price of EUR 275.
The case of the private investor
Private investors who also wish to purchase 100 shares, but have access to a reserve of special shares, can purchase 50 at a price of EUR 200 and 50 at a price of EUR 250. He will therefore have bought 100 shares at an average price of EUR 225.
Finally, remember to always ask your stock broker where and how your stock market orders are executed because outside broker commissions there may be indirect transaction costs that add up to significant amounts over time.
Sponsored article
Image source: Freepik
All of our information is generic by nature. They do not take into account your personal situation and in no way constitute personalized recommendations for the purpose of executing transactions and cannot be equated with a financial investment advisory service or with any incentive to buy or sell financial instruments. The reader is solely responsible for the use of the information provided, without any recourse against the publisher of Cafedelabourse.com. The responsibility of the publisher of Cafedelabourse.com shall not be held liable in any way in the event of errors, omissions or improper investments.